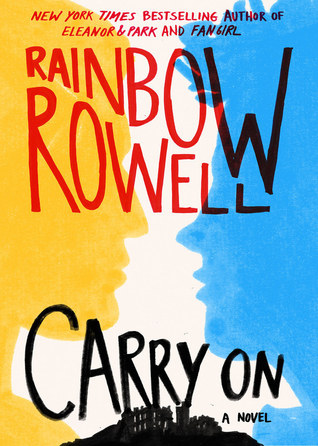 Simon Snow is the worst chosen one who's ever been chosen.

That's what his roommate, Baz, says. And Baz might be evil and a vampire and a complete git, but he's probably right.

Half the time, Simon can't even make his wand work, and the other half, he sets something on fire. His mentor's avoiding him, his girlfriend broke up with him, and there's a magic-eating monster running around wearing Simon's face. Baz would be having a field day with all this, if he were here—it's their last year at the Watford School of Magicks, and Simon's infuriating nemesis didn't even bother to show up.

Carry On is a ghost story, a love story, a mystery and a melodrama. It has just as much kissing and talking as you'd expect from a Rainbow Rowell story—but far, far more monsters.
-----
I'm sorry guys but
no
I did not enjoy this book
at all,
the only reason I picked it up was because of the hype.
(Wrong move)
but I was not satisfied. I found myself just skimming through the pages.
Simon and Baz? The entire relationship was totally flat. boring. and
inconsequential.
When I was reading the first half Simon was completely obsessed with him. It annoyed me honestly. I'm like "Dude get your shit together don't you have other things to worry about?" This book had 12+ chapters of Simon obsessing over where Baz was. I was close to pulling my hair out if he asked where he was again. I get they are supposed to be together or whatever but still..calm down the fuck down. The world is pretty lame as well.
My point? This book did absolutely nothing for me the only reason I gave it a star was for Penelope, she was alright. I honestly didn't finish it.
(I'm definitely sending this book back and getting my refund)
You know, I normally don't read books that has a same sex relationship as a lead --
(nothing personally against the LBGT+ community, the thing is.... I just don't care *shrugs*)--
but I decide to give this a try, and I've also read other books that have the same theme, but it's a no go.
I guess this genre like Erotica is
NOT
my cup of tea.
Oh well nothing lost there. Onto better things!
Rating: 1/5
*
p.s my opinions are my own. respect that.